---
The merchandise is delivered palletized and packed to receive your order in optimal conditions.
At Yanyare, we pay special attention to all processes related to your purchase to guarantee the best service.
We put at your disposal a large team of professionals responsible for keeping you informed at all times of the status of your order.
One square meter contains 25 pieces of 20 x 20cm and comes packed in two boxes of 13 pieces each. Each box contains half a square meter.
The approximate weight of each box is 16.5kg.
The packaging of the merchan is made upon reinforced pallets and the boxes are shrink wrapped to ensure the correct delivery of the material.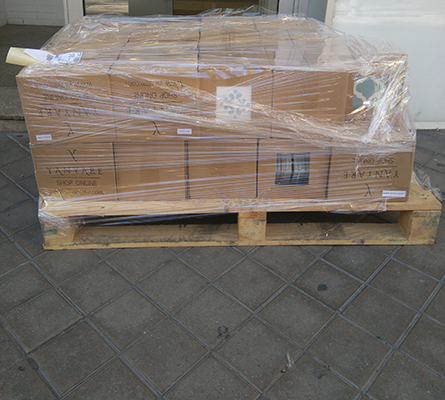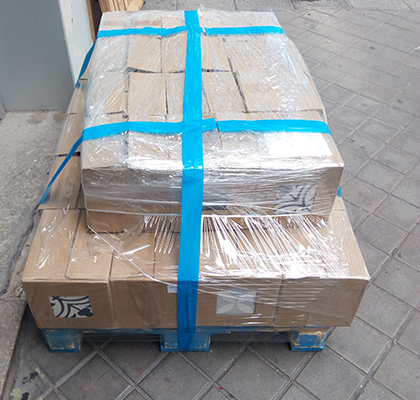 ---
Due to the actual valid legislation for this type of transport it is not possible to deliver merchan inside buildings as well as handling boxes or acces to floors or warehouses. The delivery of the pallet is carried out on the street at the nearest place to the delivery address provided by the customer.
The transport company will contact you in advance to coordinate the delivery of the merchan.
España - Península ( Zone 1, 2 y 3)
---
España - Península ( Zone 4, 5, 6 y 7)
---
---
---
---
---
---
---
* Rest of Europa please consult
Zona 1: Madrid
Zona 2: Guadalajara
Zona 3: Barcelona
Zona 4: Albacete, Ávila, Burgos, Ciudad Real, Cuenca, Jaén, León, Murcia, Segovia, Toledo, Valencia, Valladolid y Zaragoza.
Zona 5: Vitoria, Alicante, Badajoz, Cáceres, Castellón, Córdoba, Granada, San Sebastián, Logroño, Málaga, Navarra, Palencia, Salamanca, Santander, Sevilla, Soria, Bilbao y Zamora.
Zona 6: Almería, Cádiz, A Coruña, Huelva, Huesca, Lugo, Orense, Asturias, Pontevedra y Teruel.
Zona 7: Gerona, Lérida y Tarragona.
---
At Yanyare, you have the option to pick up your order yourself at our Madrid offices or through a company of your confidence.
After your purchase and receiving the confirmation via e-mail, you can withdraw your order 24 hours later.
In your order confirmation e-mail, you will receive the necessary information to pick up your order: order number, pick up address, timings, etc.
As if we had delivered it to you, you will be given the palletized and packed material so that you can transport your order in optimum conditions. If you prefer to receive your merchan without palletizing, you must indicate it in the comments when confirming your order.